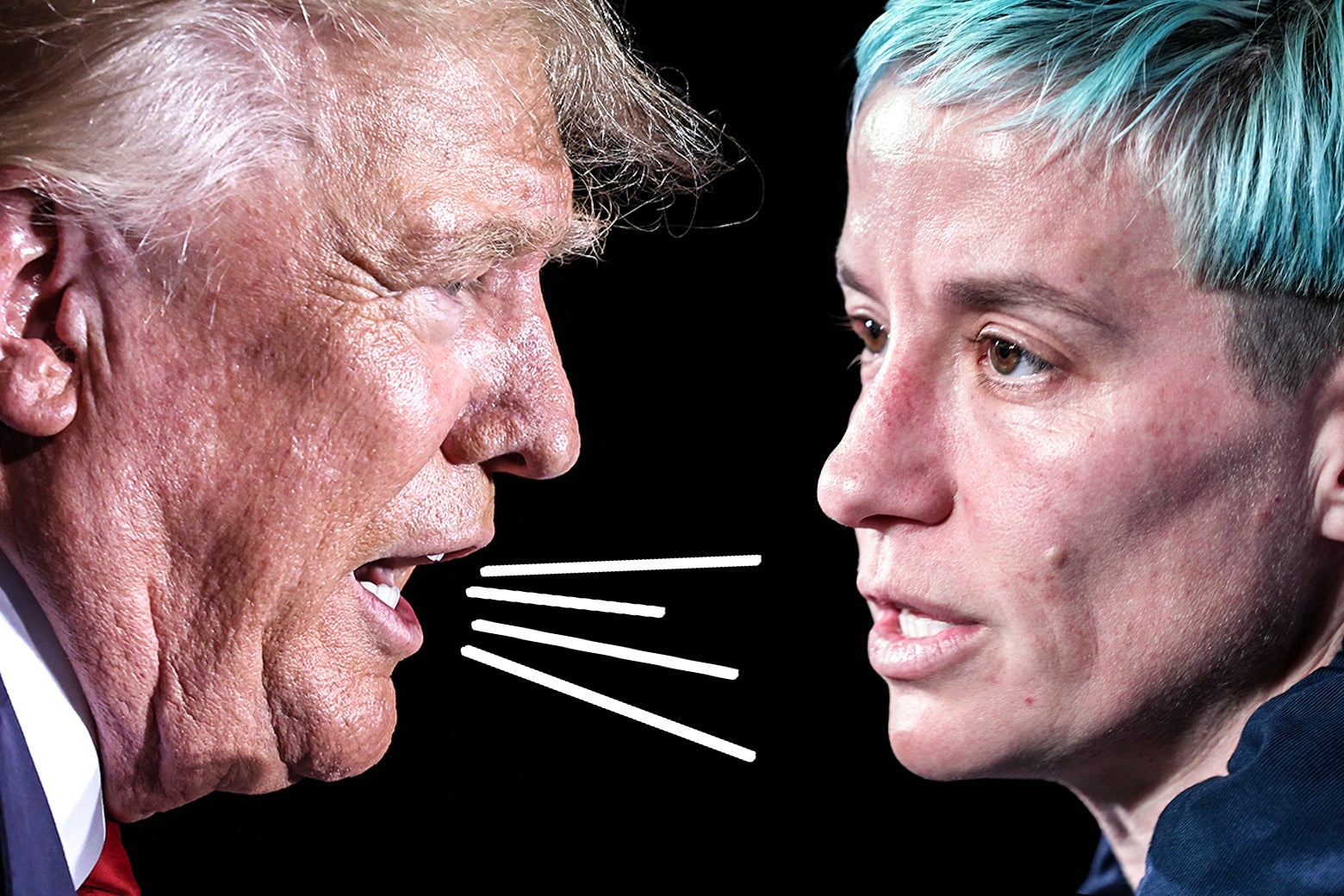 Photo illustration by Slate. Photos by Justin Sullivan/Getty Images and Robin Alam/USSF/Getty Images.
The US Women's National Soccer Team lost, in penalty kicks, to Sweden in the first elimination round of the final 16 teams in the 2023 Women's Soccer World Cup hosted jointly by Australia and New Zealand.
As discussed earlier on the Eastern Woodlands, the US team seemed to struggle in their first three games with one victory over Vietnam and then two ties in a row against the Netherlands and Portugal. The results were, if you watched, tight:
Round of 16 • Game 52 • Melbourne Rectangular Stadium, Aug. 6.
Past Matches
Aug. 1        Portugal   0 — 0USA
July 26      USA     1 — 1Netherlands
July 21       USA    3 — 0Vietnam
Interesting that early Monday morning at my Planet Fitness after our loss to Sweden and elimination from the remainder of the tourney, some fellow was shouting that it was karma that our girls had lost, that, indeed, the team was being paid back for their woke lifestyle and woke advocacy. He particularly hated Megan Rapinoe. This fellow proclaimed--like Donald Trump, Bill O'Reilly, Megyn Kelly and host of other minor league minds--that he was thrilled that the team had lost. (I had heard through the literary grapevine that one of these big three was working on a book with the working title of Confessions of a Lesser Mind.)
Two things come to mind here that need some discussion: 1) Karma. 2) The thrill of seeing those you do not like defeated in a sporting event.
Karma
Being in western New York, it is strange to cite karma as a reason for a sporting loss. As you may recall, the Bills lost four Super Bowls in a row in the early '90s. The Sabres have not done so well, either. Both now and in the past, well … for such a long time it seems forever.
And, then, there's the failure of Kodak, perhaps an unwoke place. And, Xerox, woke, but, like Kodak, really dumb. And, then there are all the people who have left western New York for greener economic pastures.
We must assume that this USNWT hating fellow and rest of us western New Yorkers are suffering some sort of divine universal curse for being here in western New York. Perhaps because we stole the land from the Native Americans making this an accursed place for all who follow in the bloody footsteps of thievery and genocide.
Concluding this idea of invoking karma, we should remember that the US Women's team won the past two World Cups and has a total of five World Cup Championships. They, as well, have defined both American national soccer and international soccer as a liberation activity for women and young girls across the globe. They have given young girls and women new choices socially as equals and individually for self esteem and self-development.
Not so bad.
So, probably not karma.
The Thrill of Defeat for Those You Do Not Like
The title of this article uses a phrase from Teddy Roosevelt's famous speech The Man in the Arena, which itself is part of a much larger speech that Teddy had given at the Sorbonne in Paris in 1910. We will have more to say about that in a moment.
Mr. Big Time, using his ironically named Truth Social, unloaded on our team after the loss to Sweden:
The "shocking and totally unexpected" loss by the U.S. Women's Soccer Team to Sweden is fully emblematic of what is happening to the our once great Nation under Crooked Joe Biden. Many of our players were openly hostile to America - No other country behaved in such a manner, or even close. WOKE EQUALS FAILURE. Nice shot Megan, the USA is going to Hell!!! MAGA
Trump's statement defies analysis, but, if we try, we have to admit there is dubious causality here: the team lost because of "crooked Joe Biden"; players were hostile to America; no other country's players behaved that way; the miss signifies that the USA is "going to hell."
Just to address the "hostile to America" idea, we have to clarify that the team has been standing for equality in society and equality under the law, which are core American values. 
Megyn Kelly, filled with a fiery resentment making one glad they've never met her, rails on about our ungrateful team:
Actually, Megan, the team had their eye on the ball. Being "woke" had nothing to do with their loss. The short answer as to why they lost: all the other teams have gotten better--in large part because our squad has served as a positive role model for young girls and young women the world over.
No Idea about Sport at All
What is surprising about Trump and Kelly is that they have no idea about sport at all. And, true to their form, they love mocking people who they disagree with. But, this contradicts the entire nature of sport. As Teddy Roosevelt said in his now well-known speech:
It is not the critic who counts, not the one who points out how the strong man stumbled or how the doer of deeds might have done them better. The credit belongs to the man who is actually in the arena, whose face is marred with sweat and dust and blood; who strives valiantly; who errs and comes short again and again; who knows the great enthusiasms, the great devotions, and spends himself in a worthy cause; who, if he wins, knows the triumph of high achievement; and who, if he fails, at least fails while daring greatly, so that his place shall never be with those cold and timid souls who know neither victory nor defeat.
Indeed, as Roosevelt understood, "The credit belongs to the man who is actually in the arena." Even more importantly, as if he were describing Trump and Kelly, Roosevelt spoke of "those cold and timid souls who know neither victory nor defeat."
There is a joy in sport that transcends winning and losing, one that Teddy captures so elegantly in his brief paragraph. In fact it is this spirit that is supposed to be the core of Olympism:
Olympism is a philosophy of life, exalting and combining in a balanced whole the qualities of body, will and mind. Blending sport with culture and education, Olympism seeks to create a way of life based on the joy of effort, the educational value of good example, social responsibility and respect for universal fundamental ethical principles.
The goal of Olympism is to place sport at the service of the harmonious development of humankind, with a view to promoting a peaceful society concerned with the preservation of human dignity.
Although that ideal may not be the reality of Olympic, national and professional sports as often as we would like, it is something that a number of sportsmen and sportswomen carry in the hearts.
When we judge athletes, individually or as teams, we should try to be a part of "a way of life based on the joy of effort, the educational value of good example, social responsibility and respect for universal fundamental ethical principles."
With that in mind, I say to the USWNT, "A job well done, ladies. You gave your hearts, souls and bodies as much as was there to give. We salute and embrace you."
Marc A. Cirigliano